EduTracker has a great and easy to use download feature that allows you to keep your Employees' Data always current by building a comma
delimited ASCII file from your payroll or personnel files. The Employee Auto Update Function takes this file and manipulates the data to match
EduTracker Requirements.
The Auto Employee Update module adds new employees, terminates employees, and makes changes to your current employee's data such as
Name, Dept, Job Classification, etc. This way you are always up-to-date with your employee's status for your facility. At the end of the run it
prints reports showing the changes it has made for your reference.
This user defined form identifies the fields you want downloaded into EduTracker.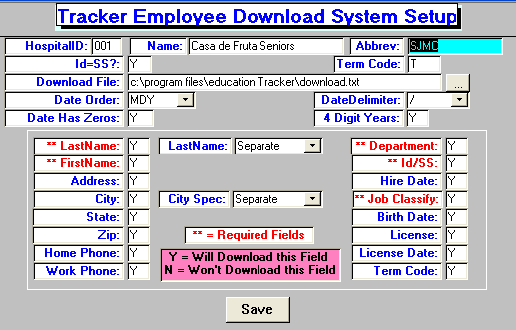 EduTracker then automatically creates an ASCII file every time you shut EduTracker down. If you have EduTrainer tied to EduTracker, this file will be used to upload and keep the EduTrainer for Web data file updated also. No more Hand Input than necessary.